The automatic PET blow moulding machine is used to BLOW all kinds of PET preforms, such as oil bottles, medicine bottles, chemical bottles, PET gallons, etc.
According to the needs of customers, this machine is produced in single, 2, 3, 4, 6 and 8 units.
Fully automatic devices have a higher production speed than semi-automatic blow moulding machine and can produce up to several times more than semi-automatic devices.
Features of the automatic PET blow moulding machine
The servo clamp system can store 60-70% of pressure gas, on the other hand, it reduces electricity consumption and greatly lowers the production cost.
The mold closing and servo drive can be connected together and improve the production speed by 0.5-0.8 seconds.
Very stable and air-saving servo preform feeding.
Advantages of automatic PET blow moulding machine
Color touch HMI system with easy operation
All spare parts CNC processing
The bottle output system is able to add a connection unit and combine with the conveyor system to connect to the filling machine.
Quick and easy change of preform holder within five minutes without stopping the machine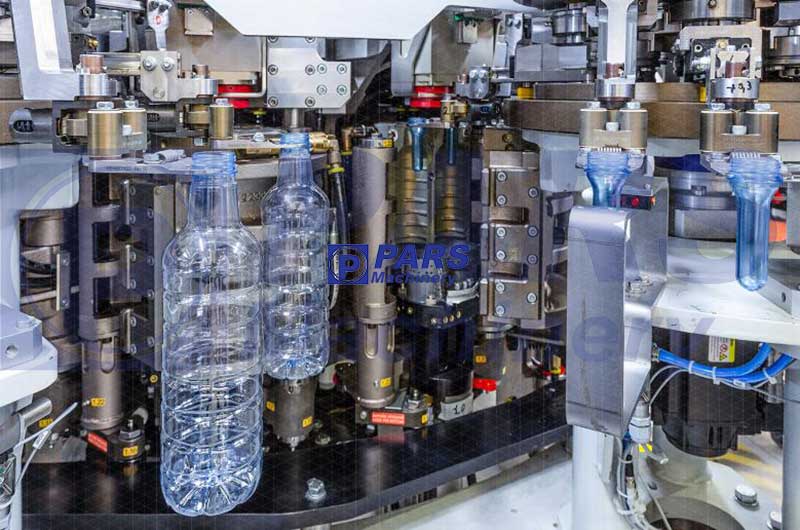 Production of bottles and gallons
The automatic PET blow moulding machine can blow all kinds of PET bottles containing oil, water, medical products, juice, tea, spices, carbonated drinks, cosmetics, etc.
Pars Company, as a leading manufacturer in the industry of blow moulding machine, offers a full range of blow moulding machine, including rotary PET blowers for the plastic and bottle industry.
Pars company covers all needs in terms of bottle outlets and formats from 0.2 to 20 liters containers.
Efficiency, flexibility, rapid changeover, low TCO are some of the key factors to ensure your success.
Whether you want to make a bottle for Hot Fill application, an asymmetric container that requires preferential heating, a standard beverage bottle or a large container, Pars Company will provide you with the most suitable blow molding machine to suit your needs.
The history of pet bottles
One million plastic bottles are bought worldwide every minute. The demand, equivalent to buying about 20,000 bottles every second, is driven by the seemingly insatiable desire for bottled water. Most of the plastic bottles used for soft drinks and water are made of polyethylene terephthalate (PET), which is highly recyclable. But as their use has increased around the world, efforts to collect and recycle bottles to prevent ocean pollution have fizzled. Less than half of the bottles purchased are collected for recycling, and only 7% of the collected bottles are turned into new bottles. Instead, most plastic bottles produced end up in landfills or the ocean.
Plastic was invented in the 19th century and was originally used to replace conventional materials such as ivory, rubber and glass. Plastic bottles were first used commercially in 1947, but were relatively expensive until the early 1950s when high-density polyethylene was introduced. They quickly became popular with manufacturers and customers due to their lightweight nature, relatively low production and shipping costs compared to glass bottles. However, the biggest advantage of plastic bottles over their glass counterparts is their superior resistance to breakage, both in production and in transportation. The food industry has almost completely replaced glass bottles with plastic bottles.
Disposable plastic bottle
Disposable bottles have a great impact on the environment:
Its production, packaging and transportation process has a very high ecological footprint and the plastic bottle produces a lot of waste.
Studies show that in many cases, water in plastic bottles has the same or sometimes even worse quality than tap water. In addition, scientific research shows that the plastic of those bottles, PET in most cases, releases toxic substances such as phthalates, antimony, formaldehyde or acetaldehyde into the water. This means that even high-quality bottled water is likely to contain plastic additives.
As single-use plastic bottles are increasingly used as an environmental blight, more and more people are using reusable bottles as an eco-friendly alternative.
Automatic rotary PET blow moulding machine
Rotating PET blow moulding machine
The new generation of rotary blow moulding machine uses the latest technical innovations for excellent performance and high reliability. It also uses the latest and most advanced technology to reduce air and electricity consumption.
Our wide and unique range of PET blow molding machines can blow bottles from 0.2 liters to 20 liters for a variety of PET packages.
Fast up to 2,400 bottles per hour per well (hole) and up to 81,000 bottles per hour overall.
Efficient – HP air recovery up to 55%. and reducing electricity consumption by 10-15%
Reliable – robust design and construction and minimum efficiency of 97%
Easy access design to reduce maintenance time and quick mold change

The background and experience of Pars machine engineering has made it possible to provide the best and most advanced blow moulding machines to its customers.
Pars Company has developed a full range of automatic PET blow moulding machine to cover all market segments and meet the demand for beverage and non-beverage industries.
Automatic PET blow moulding machine – for standard bottles
The standard series can produce bottles from 0.2 to 3.0 liters for all kinds of beverages and non-beverages.
It offers from 2 to 26 quarts and can produce up to 58,500 bottles per hour.
Automatic PET blow moulding machine – for large containers
It is designed to BLOW large containers from 4 to 10 liters.
It offers from 4 to 10 quarts and can blow up to 14,000 bottles per hour.
Series rotary PET machine – for bigger and taller bottles
It is designed to produce bottles up to 3.7 liters for all kinds of drinks.
It offers Quetta from 4 to 26.
PET rotary blow molding machine – for very large containers
It is designed to produce containers from 10 to 20 liters.
The price and purchase of an automatic PET blow moulding machine
PET blow moulding machine have different prices according to their features and production capacities. Semi-automatic or manual pet blow moulding machine are less expensive than automatic pet blowing machines. But the production circulation of automatic devices is much higher than semi-automatic devices.
Therefore, according to their needs, PET bottle producers can choose and purchase the device they want by obtaining advice and guidance from our experts.