Labeling is a technique in the IML injection blow moulding machine for direct incorporation of labels into products. Often this involves embedding logos, embellishments or product information into plastic products and packaging, but the IML injection molding machine can go even further. We can use IML to improve the physical properties of your product. For example, we can incorporate anti-oxidant or UV protection components into your packaging to make your product last longer.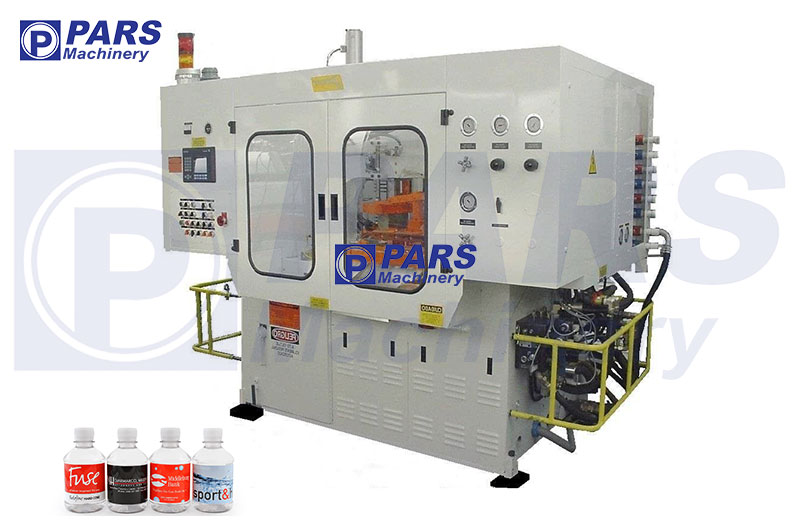 Pars Machinery Company brings a lot of experience and expertise in providing IML injection blow moulding machine. Our automation and robotics are developed and tuned to make the IML process fast, efficient and cost-effective.
Why is IML so important?
You've probably heard of in-format labeling, but do you know why this technique is so valuable?
Most marketing experts confirm that the label of the product represents the brand. This is what consumers see when they choose from many similar items on the shelf. Labeling also helps create brand integrity and becomes an instantly recognizable aspect of the product. In a very competitive and crowded market, packaging is very important.
So, if a label is creased or torn, or of poor quality, the consumer is more likely to look elsewhere. If they do it once, they may never look at the product again. This affects the long-term consumer perception of the product and brand.
Competing companies must cover all the bases in terms of packaging and label design. They want to build brand image, attract buyers, but also protect the product from damage and contamination. IML is an ideal technology for product manufacturing and design that is gaining attention for the right reasons.
This is why the IML injection blow moulding machine market is increasing exponentially. Advanced technologies, increased awareness of the technique, more cost-effective processes, and a global trend toward more sustainable packaging options have made IML a must-have technology.
Features of IML injection blow moulding machine
To meet the needs of today's industry, we offer the IML injection blow moulding machine with important features and benefits
The advantages of in-mold labeling techniques are:
Up to 45% curvature (depth and width)
Dry and solvent-free process
Unlimited design potential
Rapid design change
High resolution images
Low cost, especially for high volume projects
Achieving effects impossible with other technologies
Strong and durable for hygienic storage of frozen and refrigerated products
Damage resistant coating
Less damage to the environment
IML stands out in the world of packaging design and plastic manufacturing because it provides a more durable end product, helps reduce waste, and significantly improves packaging quality.
Valuable packaging additives include oxygen blocking or UV protection components that help make the product safer and more functional. As consumer goods margins shrink, any element that helps a company gain an edge in the marketplace is a distinct advantage.
IML injection blow moulding machine offers innovative, modern and desirable solutions. This helps your product look its best, and ultimately, the consumer is more likely to choose a product that looks attractive, safe, and strong, than one that is poorly made and presented.
Use of IML injection blow moulding machine for in-mold labeling to improve packaging and product
In-mold labeling can give your products a high-quality and beautiful appearance. With an IML injection molding machine, you can use a wide variety of materials, colors, and inks to create exactly the right design for your market. IML is also strong. Since there are no paper labels, your product is less damaged during shipping and more resistant to temperature and humidity. It is ideal for the frozen and refrigerated food market.
In the food and pharmaceutical industries, IML creates possibilities for changing the ingredients in your packaging. For example, IML technology allows us to create packaging with different levels of permeability, making it suitable for hygroscopic or UV-sensitive products. This option allows you to replace heavier materials – such as glass and tin – with injection-molded plastics, reducing the financial and environmental costs of transportation.
All of this makes it a valuable option for your packaging needs.
Easier recycling with IML in-mold labeling injection blow moulding machine
Because the labels melt directly onto your product, it means you can say goodbye to sticky paper labels. In addition to improving aesthetics, it can make your product easier to recycle. With in-mold labeling, you can create high-quality branded packaging made from a single source. This helps recycling because you don't have to remove the labels and there is no risk of contaminating the plastic recycling stream with paper. IML containers and packaging are 100% recyclable.
IML also offers other environmental benefits, including lighter packaging that reduces shipping burdens and emissions, and stronger construction that gives consumers the opportunity to reuse containers after the original product is finished. gives
Injection molding or blow molding for IML?
Achieving successful IML through IML injection molding machine or IML blow molding  machine. Both techniques offer advantages. However, there are advantages to injection molding, where molten plastic is poured into a mold and the label is then installed over the cavity and attached to the container. For example, you can label each side of a container at once.
Purchase of IML injection blow moulding machine
The IML market is growing rapidly. Thanks to the increased emphasis on sustainability and environmental care, and the need for higher quality labeling for advanced brand design, IML offers remarkable technology.
IML injection blow moulding machine offers in-mold labeling advanced  injection molding molding services, but our expertise extends to the entire manufacturing process – from design to delivery. Contact us to find out what we can do for your products.