The 200 ton servo injection molding machine, is a device for producing plastic products with the injection molding process and consists of two main parts, an injection unit and a clamping unit.
The working process of the 200 ton servo injection machine
Molds of the plastic injection machine can be fixed horizontally or vertically. Most machines are horizontal, but vertical machines are used in some applications, such as insert molding, which allow the machine to use gravity. Some vertical machines also do not need to close the mold. There are many ways to fasten the tools to the mold plates, the most common being hand clamps (both halves screw to the plates). However, hydraulic clamps (used to hold the tool in place) and magnetic clamps are also used. Magnetic and hydraulic clamps are used in cases where quick tool change is required.
Types of injection molding machines
Cars are mainly classified by the type of drive systems they use: hydraulic, mechanical, electric or hybrid.
200 ton hydraulic injection machine
Hydraulic machines have historically been the only option available to molders until the first all-electric injection molding machine was introduced in 1983. Hydraulic machines, although not completely accurate, are used in most parts of the world
The most common plastic injection machines include 200 ton injection machines, 400 ton plastic injection machines and large injection machines up to 3800 tons.
200 ton mechanical injection machine
Mechanical type machines use a ratchet system to create tension on the clamps of the machine. In all machines, sufficient tonnage is required so that the clamps of the machine do not open due to injection pressure. If the mold is partially opened, there will be waste in the plastic product.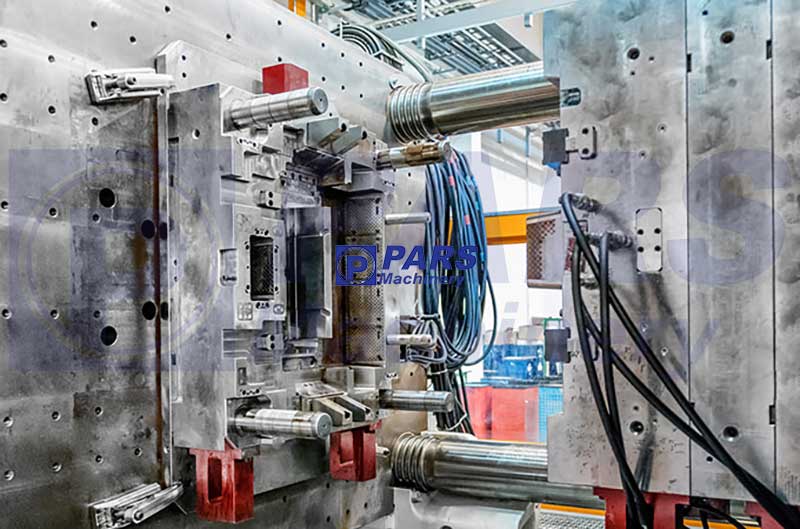 200 ton electric servo injection machine
Electric injection, also known as electric machine technology (EMT), lowers operating costs by reducing energy consumption and also addresses some of the environmental concerns surrounding hydraulic injection. Electric machines have been proven to be quieter, faster and more accurate, however they are more expensive machines.
Hybrid plastic injection machines (sometimes called servo-hydraulics) claim to take advantage of the best features of both hydraulic and electric systems, but in reality they use about the same amount of electricity to operate as an electric injection molding machine.
A robotic arm is often used to transfer molded products. Whether next to the inlet or from the top of the machine, it is more common for parts to be ejected from the mold by robots.
The main components of the 200 ton servo plastic injection machine
Injection unit
It consists of three main components:
Spiral motor drive
Spiral and reciprocating tank
Heater, thermocouple, ring piston
clamping unit
It consists of three main components:
Format
Motor drive
Bar tie bars
200 ton servo injection mold
The person designing the mold chooses whether the mold uses a cold runner system or a hot runner system to carry the plastic and fillers from the injection unit to the cavities. The cold runner is a simple channel carved into the mold. The plastic that fills the cold runner cools as the part cools and then comes out as sprue with the part. A hot runner system is more complex, often using cartridge heaters to keep the plastic in the runners warm while the part cools. After the part is removed, the remaining plastic in the hot runner is injected into the next part.

The tonnage of the injection machine
Each injection molding machine mentioned above has advantages and disadvantages. Although each machine introduces certain technological advantages, tonnage—a measure of the force required to hold the mold closed during the injection process—is the primary factor in determining the size of the plastic injection molding machine needed to produce the desired part.
Plastic injection machines can be made from under 5 tons to over 4000 tons. With such a wide range of possibilities, tonnage calculation is a necessary and pivotal step. To find the appropriate tonnage range, part size, plastic type and viscosity, and a "clamp factor" are considered. Some molders do this using an estimating equation that is generally accepted in the industry. Some do form-filling analysis to arrive at the answer. The latter is preferred because accuracy is a priority. Too little tonnage leads to quality problems and production delays. High costs and early wear of parts are also other problems.
Increase the size of your injection mold
With all the variables involved in injection molding projects and machines, there is no "one size fits all" solution. Working with a molder who has limited knowledge, experience, and access to equipment can jeopardize your project and your bottom line.
Pars Machinery Company has horizontal and vertical machines from 35 to 4000 tons, focusing on precise hydraulic and electric models. We are equipped to provide the solution you need and the design, engineering, manufacturing knowledge and processes you need to make your project a success.

Pars company is in sync with the latest technologies of plastic injection machines so that our customers have the most efficient and suitable options available. This feature strengthens our customer relationships and helps guide pre-production decisions.
200 ton servo injection machine products
From medical and automotive to household products, aerospace and more, plastic injection molding applications are suitable for almost every industry on a global scale. Here are just a few examples:
Aerospace: Plastic produces high-strength, high-impact products designed to withstand the extreme temperatures encountered in the aerospace industry. Common products made from plastic injection molding include housings, chassis components, frames, lenses, containers, and more.
Electronic enclosures for computers, remote controls, medical equipment and other consumer products are also made from plastic injection molding. The fluidity and precision of this process make it ideal for any manufacturer looking to create custom plastic enclosures.
Household applications include containers, beverage containers and baskets, production of plastic bottle caps and thousands of other applications.
Auto Parts: Everything from bumpers and bumpers to cup holders to dashboards is made with plastic injection molding. This applies to the internal and external parts of cars.
Healthcare Industry: In the healthcare field, there are thousands of applications for plastic injection molding. Multipurpose plastic products are easily manufactured in large quantities, making plastic injection an excellent process for disposable items needed by hospitals, clinics, and other medical facilities.